Vythiri in Wayanad is the first tourist destination in Kerala that has fully vaccinated citizens. The COVID-19 vaccination drive by the Kerala Government proved to be successful. If you're looking for safe and hospitable places to spend time in Vythiri, here are a couple of vacation spots you must visit.
Vythiri Stream View
Among the hills and tea garden in Wayanad lies a beautiful holiday home called Vythiri Stream View. The Chembra peak is a sight to watch from this place. This place is perfect if you're into adventurous activities such as trekking, fishing, steam walks, and treasure hunts. They make sure that your stay is not only serene but filled with fun activities.
To know more, click here.
Sai Holiday Home
Cosy, picturesque, and the perfect spot to unwind, Sai Holiday Home is a home away from home. It's an eco-friendly living space with breathtaking tea plantations and mountain views. The rooms are spacious and have all the amenities a holiday home should have. For instance, they have a well-equipped modular kitchen where you can cook, a living room with a stunning view, and even an open-air BBQ station.
To know more, click here.
Vythiri Hill Palace
Perched on a hill, this cute little homestay is surrounded by Vythiri's beauty. There's something about the place that reeks of calmness. The homestay has all the facilities you need. Think of it as your vacation home, and just enjoy the sound of nature and birds as you relax. As a matter of fact, you can even take early morning walks in the cold weather, and witness nature do its thing.
To know more, click here.
Blue Ginger Resort
Blue Ginger Resort is a beauty in itself. Located in Melepoonchola, Vythiri, this resort is equipped with all the luxuries you expect such as a swimming pool with a forest view, a gym, a park to take your morning/evening walks, and a restaurant that serves scrumptious local cuisines. It's the perfect destination to relax and unwind.
To know more, click here.
Also Read: Infinity Pools In Kerala That Are Breathtaking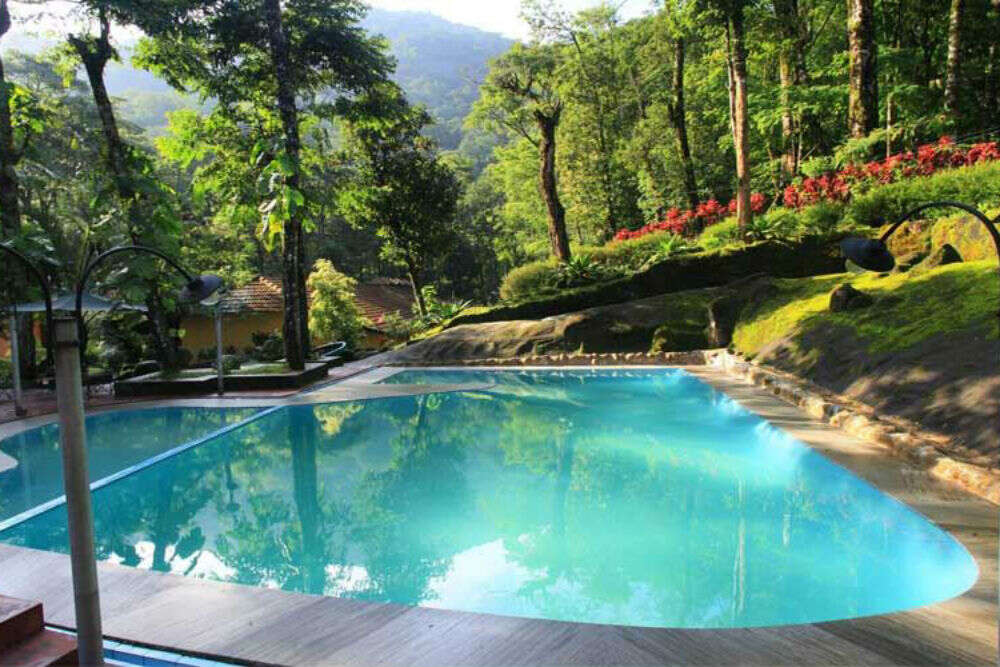 Vythiri Danish Resort
The Danish Resort at Kanndichola is built in the valley of two mountains. Now, that itself is enticing enough for you to check out the place. More than that, the guests can access affordable, eco-friendly stays and trekking on request to the nearby lakes, waterfalls, Kuruva Island, sanctuaries etc. If you're lucky enough, you might just catch a glimpse of the Great Indian Horn bill and the Giant Malabar squirrel on your way to the resort. They have various stay packages to choose from depending on your preferences with breakfast included.
To know more, click here.
Also Read: This Beach Villa In Kerala Is Being Sold For Over $1 Million
Vythiri Olive Garden
This is one of the best homestays you'll come across in Vythiri. This cozy architectural wonder will make you feel like you're on vacation. Apart from their tented accommodation, it's the people over there who will make you feel like home. Surrounded by an array of trees and exotic animals, this place is warm, joyous, and a treat to the eyes.
To know more, click here.
Vythiri Wild Forest Resort
Unlike other resorts, the Wild Forest Resorts promises a jungle experience like never before. They have an array of activities to keep you entertained like trekking, outdoor games, barbeque facilities etc. Stay on this picturesque resort away from the noise of your city life, and enjoy being in the vicinity of nature.
To know more, click here.
Chembra Adobe
If you want to visit Puliyarmala Jain Temple and Wayanad Cricket Stadium, Chembra Adobe would be the best place to stay in. More than the view, the stay will surprise you with its rustic architectural elements. It's spacious, airy, and perfect for people looking for a relaxing adventure in the woods. It's definitely one of the best vacation spots in Vythiri.
To know more, click here.
Also Read: 10 Staycations in Thrissur Because You Deserve A Break
These are a few vacation spots in Vythiri that we'd recommend. If you have any suggestions, let us know in the comments below.