The other day I was watching a scene from the movie Alaipayuthey and my husband walks in to see me grinning, glued to the screen. He paused, gazed at the scene, and asked me, "Why are you so hyped up about this scene where someone hunts a woman's address down, pops up unannounced, and circles the house on his bike like a pro stalker?" My first reflex was denial because the movie held a dear place in my heart ever since I was a child. But later, it got me thinking – Have movies convinced us that stalking equals love?
Also Read: MALAYALAM SONGS THAT HAVE RESURFACED ON SOCIAL MEDIA
Wasn't this the image of romance that was portrayed in our movies all along? Wasn't persevering to seek a relationship with someone who has not even batted an eyelash to your persistent romantic endeavors a staple in a lot of our movies? In the movie Christian Brothers, Joji (Dileep's character) says "Vidilla njan" to Meenakshi (Kavya Madhavan's character) and is shown stalking her and literally harassing her throughout the song "Karthaave Nee Kalpichappol", all purportedly in the name of winning her over. The woman shows utter displeasure to all his acts, but is anybody even noticing? It is also worth mentioning here that the first time he set his eyes on her he was determined that she was going to 'be his', which led him to quit his studies in Italy and flee to London, the place where the woman of his dreams resided. How romantic (not)!
You May Also Like: MALAYALAM MOVIES INSPIRED BY SHAKESPEARE'S PLAYS
And we know that this is not the first time we've heard the dialogue "Vidilla njan". In Kochi Rajavu, Unni (again Dileep's character) said this to Achu (do I need to mention it's Kavya?) and the theatre roared with laughter, which was further amplified when he attempted to make her feel uncomfortable by focusing the rearview mirror of his autorickshaw on her for a 'proper view'.
These two characters, Joji and Unni, have something in common. They belong to the category of intimacy-seeking stalkers, whose aim is to establish a close emotional bond with their muse because they feel that the two of them are meant to be. While such people are not potentially abusive, their acts may sometimes have an adverse impact on the victims.
Also Read: HOW HOLLYWOOD PLOTS CHANGE TO MOLLYWOOD STANDARDS
Of course, most of us may have enjoyed watching scenes like these, and at least some of these would have remotely shaped our perceptions of love, more like stalking equals love. And this is exactly where the problem lies. The normalisation of such behaviour, as harmless as it may seem on the periphery, runs a huge risk of feeding people with distorted ideas of romance. I mean, if you love someone you don't just turn up randomly at places that they're expected to be and then unapologetically stalk them, despite a lack of reciprocation from them. But of course, they believe that when a girl says "no" she seldom means "no". Or maybe that they just haven't tried hard enough to woo her?
You May Also Like: 7 WOMEN IN MOLLYWOOD WHO DEFINED THE FASHION SCENE IN THE 80S-90S
This reminds me of a song from the Bollywood movie Josh where Aishwarya Rai sings, "Yeh uska style hoyenga, hoton pe na, dil mein haan hoyenga". Can the lyrics of a song stoop any further?
Even the poetically rich Malayalam song "Thangabhasma Kuriyitta Thamburatti" fails us as the hero chases the heroine around trees threatening to break her noyamb and harass her.
If you think this is just a yester-year woe, then I have to draw your attention to the movie Love Action Drama. I am still trying to figure out what made Shobha choose Dinesh after all the stalker-like behaviour he indulged in. Packing his bags and embarking on a trip to the neighbouring state to hunt his love interest down just because she sent him a WhatsApp text. And if that's not enough, virtually stalking her on social media to find her whereabouts and turning up at those places.
Also Read: M NIGHT SHYAMALAN – A MALAYALI PRESENCE IN HOLLYWOOD
For a movie that was released in 2019, this one is sending out a whole lot of skewed notions on love. Such notions are concreted when stalkers of these sorts get their reward, which most of the time they do – yes, they end up marrying the woman they pursued relentlessly. If you look at this through the lens of psychology, the social cognitive theory is at play here. This basically means that people generally adopt behaviour based on the favorability of the outcome that comes of it. The message that such movies send out is quite damaging – stalk her, intrude into her privacy, manipulate her, and finally, she will say "yes". Because, well, stalking equals love.
Also Read: 9 MALAYALAM MOVIE SONGS THAT MAKE HOUSEHOLD CHORES SEEM FUN
In the movie Thalavattam, we see Mohanlal crashing into Lissy's hostel room while she is not around, faking to be an electrician only to scrawl at least a hundred desperate "I love you"s all over her walls, bedsheets, mirror and where not! As if the four walls weren't enough for this unnerving act, he goes a few miles extra and scribbles an entire street with the same message. And the whole time the audience kept mentally saying "Oh my god! When is she going to reciprocate his love?" It used to be a given that if the guy has invested enough time and efforts in pursuing the girl, then it's just a matter of her opening her eyes to realising that she's found her Mr. Right. The perfect example of how movies promote the 'stalking equals love' idea.
The lighthearted or comical representation of such acts may persuade us to turn a blind eye to the actual situation. This also has a lot to do with the fact that our heart keeps going out to the actors who play the characters. This is especially true in the case of the character Rasool played by Fahad in the movie Annayum Rasoolum where he is actually an invasive stalker but his melty eyes and charm kind of overrides the fact that he is stalking the hell out of Anna. Within a conspicuous radius of her journey to work and back, whether it is by foot, in a bus, or even on the ferry, he was sure to lurk around. From raiding her bag when she is not around to following her right up to the gate of her residence, he gives zilch value to her personal space. And they called it 'vere level romance'!
You May Also Like: GOOGLE SEARCH HISTORY OF MALAYALAM MOVIE CHARACTERS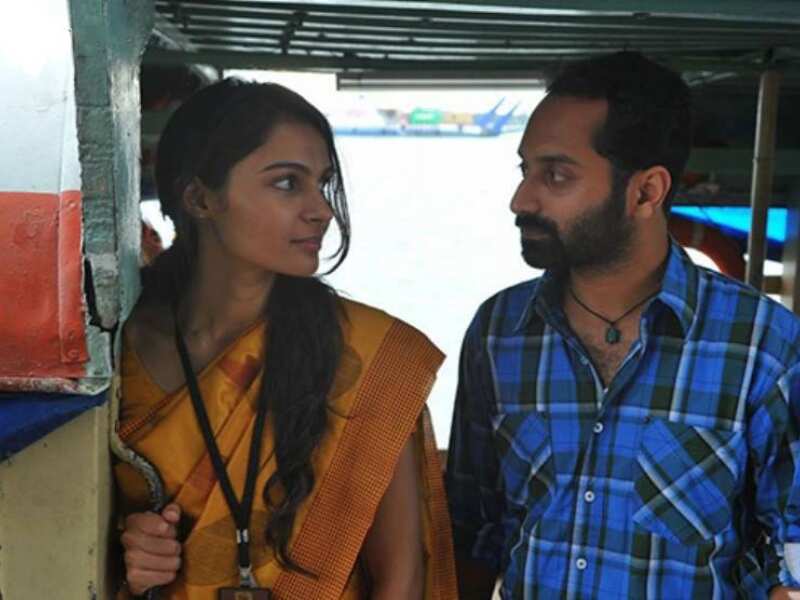 What actually amuses me is that many a time, women are portrayed to be feeling flattered by such pursuits! Case in point would be Swapnakoodu where Kamala confesses to Kunjukunju that she had secretly enjoyed his kusruthikal (read harassment), and Ashwathy in Pokkiriraja when she falls for the flamboyant Surya who feigned to be a police officer to keep an eye on her; quite an unhinged violation which nobody mentions of in the movie.
Also Read: UNDERRATED ROMANTIC MALAYALAM MOVIES
Yet another problematic reaction common among the women is passive behaviour – the kind where the stalker presumes that maunam equals sammatham. Consent seems to be a completely alien concept for these people. It is a separate issue that even when the person being stalked says "no" in an outright manner, the stalker just thinks that she is hurling a 'Ms. Hard to Please' card. Such assumptions and responses have justified these unwanted pursuits and sealed the fact that anybody can get the girl they want by just longing enough for her.  
Also Read: THINGS WE'VE LEARNED FROM MALAYALAM MOVIES
Also, just because I'm writing 'girl' and 'woman' doesn't mean that stalking is not a gender-neutral activity. It very well is! Nobody can forget Pooja of Om Shanti Oshana who stalked Giri despite his disinterested demeanour, and Shruti of Mazha Ethum Munbe who persistently kept expressing her love for her professor, despite him constantly brushing it off as infatuation. However, going by statistics, 1 in 6 women are victims of stalking while the ratio among men is 1in 17.   
You May Also Like: MALAYALAM MOVIE SCENES THAT REEK OF MISOGYNY
Stalking was indisputably characterised as endearing and cute right from the '60s, but I'm sure now at least some of us are able to strip away from the filmy allure and view it for what it is – creepy behaviour at best. In conclusion, stalking does not equal love.