As the year ends, we thought it would be great to revisit some of the most exciting, heart-warming viral pictures of 2020. This year was complicated for all of us. But, there were a few incidents that restored our faith in the world we live in.
We all took a backseat this year so let's end the year on a good note. These viral pictures of 2020 might just do the trick.
Also Read: LITTLE THINGS WE GAINED THANKS TO CORONA
Whale Sharks Freed By Fishers
Vivek Menon, Chief Executive Officer of Wildlife Trust of India, shared a few pictures of fisherfolk from Kerala recusing a whale shark which lay on the beach, tangled in a net. They were able to untangle the shark from the net and release it into the sea.
Beginning the morning with good news from the #Kerala. A #whaleshark caught in the nets was freed by fishers. Third instance in this state following the start of @wti_org_india project here. I have announced a special award for them. pic.twitter.com/dH2Q45ZlrQ

— Vivek Menon (@vivek4wild) December 5, 2020
Vivek tweeted, "Beginning the morning with good news from the #Kerala. A #whaleshark caught in the nets was freed by fishers. The third instance in this state following the start of @wti_org_india project here. I have announced a special award for them."
Penguins Hugging
Photographed by Tobias Baumgaertner, this picture of two widowed penguins gazing into the viewpoint at St. Kilda Pier, Melbourne won an award in the Community Choice Award category of the 2020 Ocean Photography Awards hosted by Oceanographic Magazine. One of the best viral pictures of 2020 we've seen!
Tobias, sharing the story behind the picture, said, "I captured this moment about a year ago. These two Fairy penguins poised upon a rock overlooking the Melbourne skyline were standing there for hours, flipper in flipper, watching the sparkling lights of the skyline and ocean. A volunteer approached me and told me that the white one was an elderly lady who had lost her partner and apparently so did the younger male to the left. Since then they meet regularly comforting each other and standing together for hours watching the dancing lights of the nearby city. I spend 3 full nights with this penguin colony until I was able to get this picture."
The Pink Lake
This year, a village in Kerala's Kozhikode, Avala Pandi, garnered a lot of attention because of a lake that turned pink due to the growth of an aquatic, invasive plant species, commonly called as mullan payal. While it might have been beautiful to look at, these flowers are actually a threat to the ecosystem, FYI.
Kerala: Forked Fanwort blooms in Kozhikode; people visit to see flowers of the aquatic plant.

(23.11.2020) pic.twitter.com/XLIZBpbovz

— ANI (@ANI) November 24, 2020
Jupiter-Saturn Conjunction
A few days ago, for the first time in 400 years, Jupiter and Saturn were seen in close proximity to each other. It was a spectacle to watch in the night sky and the best part was that no equipment was required to witness this miracle. One such admirer, Sajal Chakraborty, managed to capture an almost-perfect picture of this conjunction, and we are in awe. Would you say that this is one of the best viral pictures of 2020?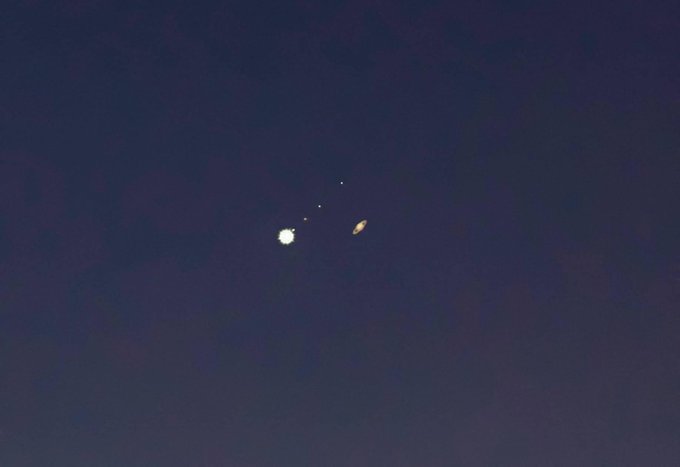 In an interview with Indian Express, he said, "It's a composite to create the details. I used an intervalometer for the shutter and stacked multiple exposures to get the details. 21st was a rainy day here. So I had only one small window of opportunity where I could capture them at their closest."
Newborn Baby Removing Doctor's Mask
With masks being the new normal to reduce the risk of infection, we cannot deny that we've all had our share of irritation with it. So, when this picture of a newborn baby, trying to remove a doctor's surgical mask became the talk of the town, it was seen as a symbol of a better future for us.
The doctor in the picture, Dr Samer Cheaib, is a UAE-based gynaecologist. He took to Instagram and posted this picture with the caption – "We all want a sign that we are going to take off the mask soon". And not-so-surprisingly, people saw it as a beacon of hope.
2020's Grumpy Baby
Speaking of babies, how can we all forget the Brazilian grumpy baby who didn't want to be born in 2020? The baby named Isabela Pereira de Jesus was born on February 13, and that moment was captured by photographer Rodrigo Kunstmann. We all could relate to that expression because 2020 was one helluva roller-coaster ride. You should totally check out the memes that came flooding when this picture when viral AF!
Black Panther
It's not every day that you come across a beautiful, majestic Black Panther roaming around in the jungle. Wildlife photographer, Shaaz Jung, was able to capture these stunning images of the 'Ghost of the Forest' at Nagarhole Tiger Reserve in Karnataka. Reminds you of Bagheera from Jungle Book, right? Thought so!
Shaaz Jung shared his experience of capturing these pictures with India Today. He said, "From 2017 to 2020, we had a filming and research permit, and for the first time ever we had to make a film on this melanistic leopard. So that required hours and hours every day, over these three years, to track this animal. He really teaches you the art of patience because 8-10 hours every day and I would be extremely happy and lucky, the team would be jubilant basically if we saw him for just 12-15 seconds a week."
The Sunset Moment
One thing that 2020 taught us was to appreciate the little things in life, including watching the sunset. This picture of an 87-year-old patient watching the sunset with his doctor outside a hospital is truly endearing.
The patient had been hospitalised for a month due to Coronavirus. One fine day, when the patient's doctor had to take him to do a CT scan, he was asked if he wanted to see the sunset. Thus, the picture was born. Both the doctor and the patient enjoyed the moment.